News
Dialogue – ground for stability and progress
30.05.2012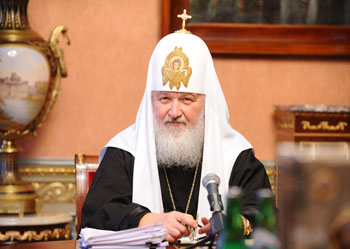 Date: 29.05.2012
His Holiness Patriarch of Moscow and All Russia Kirill talks about Kazakhstan model of interethnic accord and President Nursultan Nazarbayev's part in strengthening peace and stability in the international scale.
Kazakhstan is on the eve of an important event - IV Congress of Leaders of World and Traditional Religions. Participants are sharing their opinions about Astana and Kazakhstan practice in peaceful coexistence of different cultures. Patriarch of Moscow and All Russia Kirill has visited Kazakhstan several times and is very happy to come to our country again.
- Over the past two decades, Kazakhstan has changed considerably and now it is a dynamically developing country, which arose in a very difficult moment of the Soviet Union's collapse, when economy crashed down and social order changed, - said the Patriarch.
Kazakhstan overcame all the hardships of economic and social development and took its new place in Eurasia and the whole world. Nowadays Astana is a very beautiful and modern city, worthy of being the capital of the Republic of Kazakhstan.
With the country's development religious life has evolved too. Over the past few years, Kazakhstan has created a Metropolitan District of the Russian Orthodox Church and new dioceses, under support of RK President a new Assumption Cathedral was constructed in Astana, cathedrals opened in regional centers, a Spiritual and Cultural Center of Metropolitan District of Saints Cyril and Methodius is under construction.
- Kazakhstan is a multi-national country, where Islam and Orthodoxy are peacefully coexisting. Different peoples live in peace and harmony, which is the key to inter-religious accord. It is a good example to many countries in the world, - said the head of the Russian Orthodox Church. – It is a solid ground for political stability and economic development.
- In this regard, I would like to quote Kazakhstan President saying that all global problems can be solved through dialogue and joint efforts. I deeply respect Nursultan Nazarbayev's contribution to the country's development and CSTO organization, aimed at countering external military-political threats and international terrorism.
N.Nazarbayev's another important initiative is the Congress of world and traditional religions, where corresponding recommendations for problems' solution are to be given.
- We must show and prove that religion is a guarantee of moral and spiritual prosperity. Vacuum in religious sphere is not just ineffective but dangerous. It is necessary to support and develop religious education in schools and universities, training highly religious people not for religious areas only but also for a secular society. One of the goals of religious literacy should be an ability to confront extremism and external destructive influences, - the Patriarch of Moscow and All Russia asserts.
At the same time it is important to maintain the traditional religions with strong historical roots, focused on peace and dialogue, ideals of love, kindness and harmony.
- After the Soviet Union's collapse, Kazakhstan was in a difficult position with many cultures and confessions - he went on.

- No religious conflicts happened in Kazakhstan due to RK President's insightful policy for national majorities and minorities, traditional Kazakhstan religions - Islam and Orthodox Christianity, which helped sustain socio-political and religious life. And this is a good example for many, - concluded the patriarch.
Vladimir Osipov